Why your child might need to use non-verbal ways of communicating
by Adina Levy
This week I filmed a 30 min video for my Connect & Grow community called 'All Communication is Valid! Finding a Place for Verbal and Non-Verbal Communication'. Today I wanted to share some of the key ideas with you, because they apply to all kids and adults, of all ages!
When we support people to communicate in ANY way, and respond to their communication, we open up so many more opportunities to connect and understand each other.
💬 🙌 ✍️ There are so many ways we all communicate, everyday. They are all valid. We need to help children learn and use a range of communication, and encourage them to use whatever method is most accessible to them in that moment.
We communicate with a mix of speech (verbal communication), and non-verbal communication, which can include: sounds, gestures, signs, pictures, objects, body language, body position, facial expressions, writing, drawing and more!
​
😓 🎆 At times, your child may need to use an easier communication method, even if they can sometimes use other ways of communicating.
When your kid is sad, overwhelmed, frustrated, in a new situation, with new people, or thinking about new concepts, these may be times that they need to share their message in ways that are more easily accessible for them. This might be saying shorter sentences, using gestures, or using visuals – it depends on your child, their skills, and how they're able to process and communicate in that moment.
​
🗣 👋 If you want your child to talk, or to talk more (and you don't need this as a goal, that's a choice), a verbal goal can exist at the same time as non-verbal communication goals. The most important goal you can have for your child is for them to be able to express themself in any way, to reduce frustration and increase connection.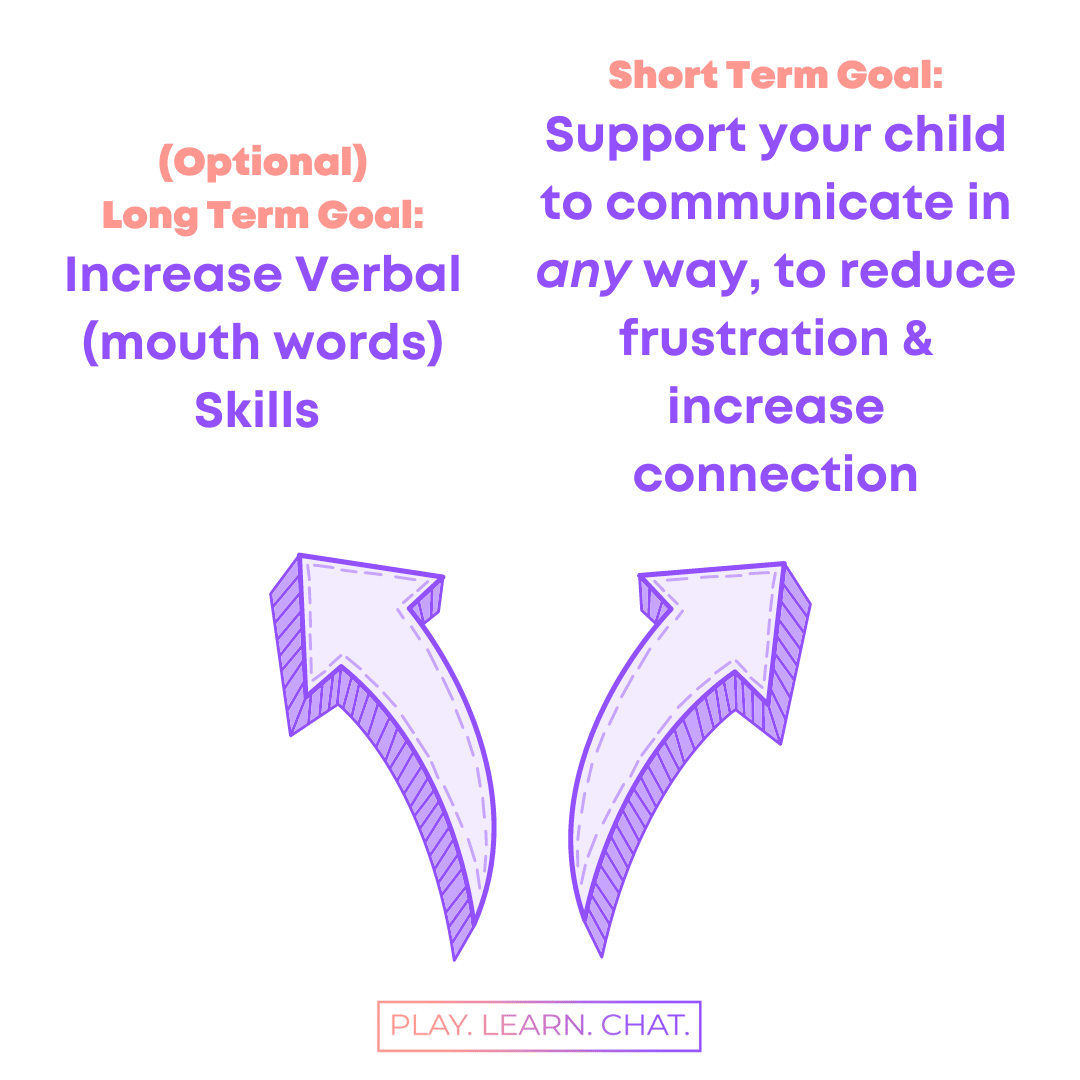 Reflection challenge: What are your beliefs and values about different methods of communicating, and how does that apply to ways you support child to communicate?
If you are enquiring about a workshop, webinar, training or a speaking opportunity, I will respond soon. Please note that it can take me a few days to get back to you as I juggle many roles!
If you've registered for a webinar or workshop and can't find confirmation or access information, please check your junk/spam email and add hi@playlearnchat.com to your safe senders/contacts list.
I am not able to provide personalised advice, resource or service requests/recommendations. You can view my resources & links page here, and view therapy services that I've worked with here. Please note that I no longer take on new speech therapy clients.
I am not able to reply to all feedback comments, but I do read them and appreciate you taking the time to share!
Thank you for your understanding!
For anything else - please feel free to contact me using the form below