My Cycle of Neurodiversity Affirming Support (a.k.a. the Hexagon of Helpful Support…)
by Adina Levy
I wanted to share with you my Cycle of Neurodiversity Affirming Support – specifically thinking about therapists and our process when we support neurodivergent kids.⁠
⁠
I'm teaching all around this hexagon in the Affirming Communication for Autistic Children Course, but I thought I'd share this with you here to give you an idea of how I see it all connecting up.⁠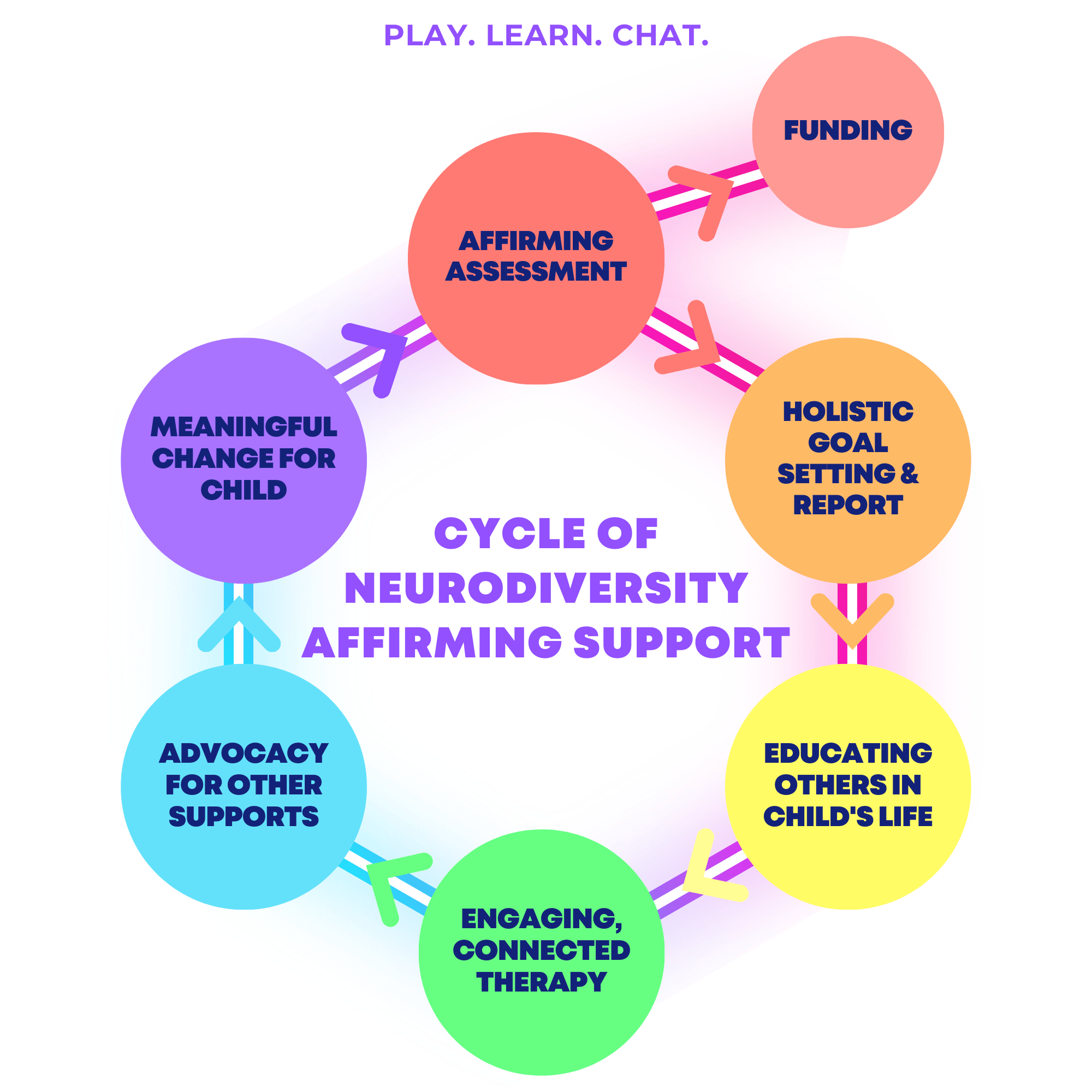 When we do assessments for neurodivergent kids, these are not isolated blips in time to tick off a box. The whole assessment process has huge implications for how we proceed with our relationship, advocacy and support for our ND kids.⁠​
⁠
Sure, funding (insurance, NDIS, school funding etc) plays a part in how we do our assessments but this is not the main story here.⁠
⁠
Thus why my funding bubble is off to the side… We consider it, but it's not our main focus.⁠
⁠
The assessment feeds into how we set goals, write reports, and then these in turn impact what the support for ND kids looks like.⁠
⁠
Our reports are such a powerful space for education and advocacy, and I really encourage you to use these documents to document the child's story, your observations and analysis etc… but also use the report as a way to share the Neurodiversity Affirming approach with families, teachers, other therapists, paediatricians… the world!⁠
⁠
​I'd love to hear your thoughts on my Hexagon of Helpful Support (I nearly called it this, but I didn't… Maybe I should?!)⁠
If you're a speech therapist and this model is tickling your brain a bit, check out my Affirming Communication for Autistic Children Course!
If you are enquiring about a workshop, webinar, training or a speaking opportunity, I will respond soon. Please note that it can take me a few days to get back to you as I juggle many roles!
If you've registered for a webinar or workshop and can't find confirmation or access information, please check your junk/spam email and add hi@playlearnchat.com to your safe senders/contacts list.
I am not able to provide personalised advice, resource or service requests/recommendations. You can view my resources & links page here, and view therapy services that I've worked with here. Please note that I no longer take on new speech therapy clients.
I am not able to reply to all feedback comments, but I do read them and appreciate you taking the time to share!
Thank you for your understanding!
For anything else - please feel free to contact me using the form below